History of the Clubhouse
The Artists Rifles Regiment formed in 1859 as one of Queen Victoria's Voluntary Forces. The Regiment had always attracted leading figures in London life and in 1926 they built the Artists Rifles Clubhouse at Bisley as a training and social base for their shooting teams. Many elements of the original building remain intact as well as a wealth of memorabilia, paintings, pictures, photographs and cartoons.
The Clubhouse remained in regimental hands until the MoD sold the building in 1967. In doing so we lost a bastion and former regimental home from home.
In 2003 the Clubhouse was secured by former members of this illustrious Regiment (as a not-for-profit establishment) who bought it with the sole purpose of wanting to preserve and promote the Regiment's former history and heritage as well as providing a base for former and current serving members. In addition we welcome those in the wider ' Crown Service' community along with their close friends and families.  These applicants benefit from reduced membership rates. Our 'privileged' category of membership is for those without Crown Service background but who share the club's ethos and values.
Today's Clubhouse has a thriving membership and offers exciting, social and shooting events. We have a welcoming and well stocked bar, delicious food and comfortable accommodation all found in a refreshingly relaxed and ' home from home' environment.
Who are the Artists?
Regimental History
The Artists Rifles have a long and glorious history. The Regiment was raised in 1859 from a group of painters, sculptors, engravers, musicians, architects and actors, as part of the great Volunteer Corps movement that grew rapidly in that year in response to a threat of invasion by the French under Napoleon III.
The Corps was officially named "The 38th Middlesex (Artists) Rifle Volunteers", and its first effective Commanding Officers were Henry Wyndham Phillips, the painter, and Fredrick Leighton who later, as Lord Leighton, was President of the Royal Academy.


Other prominent people in those early days were John Everett Millais, Holman Hunt, and William Morris. Amongst their latter-day successors were Noel Coward, and Sir Barnes Wallis, CBE, FRS.
The Artists badge was designed by Wyon, the Queen's medallist, who also designed the Queen's medal and the badge of the  National Rifle Association (NRA). It incorporates the heads of Mars, the God of war, and Minerva, the goddess of wisdom, the motto being "Cum Marte Minerva" (Mars with Minerva), representing war and the fine arts. The Artists served with distinction in the Boer War and, of course, because of the First World War, had an unavoidable break from Bisley, when they served in France. In this period they produced 10,256 officers.
15,022 men passed through the Regiment, of whom 2,003 were killed, 3,250 wounded, 533 posted missing and 286 taken as prisoners of war. Amongst them they won: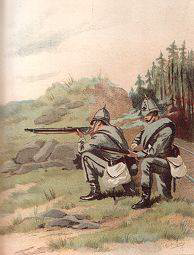 8 Victoria Crosses,
52 Distinguished Service Orders and 4 bars,
822 Military Crosses with 63 bars (and 6 second bars!)
23 Distinguished Flying Crosses with 3 bars
15 AFCs,
6 DCMs
15 MMs
14 MSMs
564 Mentions in Dispatches.
Between the wars, the Artists competed in major team shooting events with distinction, although they left what they called "pot-hunting" to individuals!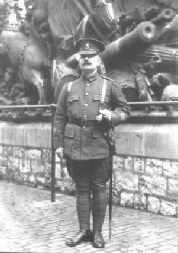 During the 1939-1945 war, the regiment never fought as a unit but was converted into an Officer Cadet Training Unit, supplying officers to other regiments.